Warren & Baerg Manufacturing, Inc.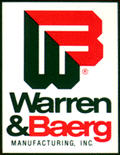 Welcome to the Warren and Baerg Manufacturing, Inc. website.
Warren & Baerg Manufacturing is an international organization serving densification needs worldwide. We are proud of our quality equipment and our reputation for service. Today, service is more important than ever, and our commitment to service is evident throughout our organization, from our courteous, knowledgeable staff to our computerized ordering process system. With representatives in many countries, we provide the personal attention that is so beneficial when running a successful operation.
Warren & Baerg produces both agricultural and industrial systems for your densification needs.
Our agricultural systems, based on the Model 200 Cuber, can process a variety of agricultural crops, most notably alfalfa. Our cubers have an eight ton per hour production rate for most agricultural products. The cubes produced are most often used as feed, which studies have shown to have more nutrients and are more digestible than loose hay (see our info library).
Our industrial systems with the Model 250 Cuber can process materials such as paper, newsprint, cardboard, wood waste, municipal solid waste and sludge wastes at rates of four to seven metric tons per hour per cuber. The fuel cubes produced have characteristics similar to coal or wood fuel, and can be used in most industrial boilers. Utilizing these materials not only reduces the volume of waste going to landfills, it creates an ongoing source of energy.

� var _gaq = _gaq || [];
� _gaq.push(['_setAccount', 'UA-23129257-1']);
� _gaq.push(['_trackPageview']);
� (function() {
��� var ga = document.createElement('script'); ga.type = 'text/javascript'; ga.async = true;
��� ga.src = ('https:' == document.location.protocol ? 'https://ssl' : 'http://www') + '.google-analytics.com/ga.js';
��� var s = document.getElementsByTagName('script')[0]; s.parentNode.insertBefore(ga, s);
� })();
� var _gaq = _gaq || [];
� _gaq.push(['_setAccount', 'UA-23129257-1']);
� _gaq.push(['_trackPageview']);
� (function() {
��� var ga = document.createElement('script'); ga.type = 'text/javascript'; ga.async = true;
��� ga.src = ('https:' == document.location.protocol ? 'https://ssl' : 'http://www') + '.google-analytics.com/ga.js';
��� var s = document.getElementsByTagName('script')[0]; s.parentNode.insertBefore(ga, s);
� })();

Contact Telephone +1-559-591-6790 / Contact Email: info@warrenbaerg.com